Personal Injury Lawyers
Car Accident? Slip & Fall? Personal Injury?
Call Grillo Barristers for a FREE consultation.
Remember, you will not pay any fee until your case is won or settled.
Request a
FREE


Consultation
Grillo Barristers Personal Injury Lawyers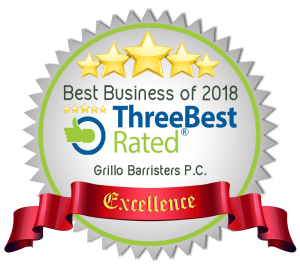 Grillo Barristers is a prominent Toronto plaintiff personal injury law firm with over 30 years of experience.
We are prosecuting claims for injured victims throughout Ontario including Toronto, Newmarket, Brampton, Mississauga, Markham, Vaughan, Oshawa, Peterborough, Lindsay, Pickering, Ajax, Richmond Hill, Mississauga, Guelph, Kitchener and Barrie. We specialize in car accident claims, slip & falls, traumatic brain injury, spinal cord injury, catastrophic determinations, product liability, and short term and long term disability claims.
Our Experience
Our team of experienced and professional litigators, accident benefits specialists, and support staff are all dedicated to ensuring that you receive the highest quality advice and representation in your claim.
If you have ever sustained an injury in an accident or suffered any of the above losses, then you need to know your legal rights and remedies. At Grillo Barristers, we would be pleased to discuss your claim with you and provide you with the best legal advice and representation.
Our lawyers regularly appear before courts in Ontario including the Superior Court of Justice at Toronto, Newmarket, Brampton and Oshawa and have represented plaintiffs at all stages of litigation including civil trials.
Over the years, we have successfully prosecuted more than 15,000 claims and have settled more than 300 million dollars out of Court and from trial verdicts before the Superior Court of Justice. We have helped thousands of innocent victims obtain compensation for their pain and suffering, lost income and wages, lost career and advancement opportunities, unpaid benefits, healthcare, rehabilitation and attendant care costs, and expenses.
Our lawyers are not afraid to fight for your rights and represent you through to trial. We have successfully represented thousands of clients involving a variety of complex issues including catastrophic claims, traumatic brain injuries, hit and run accidents, wrongful deaths, fatal collisions, pedestrian run-overs, slip and falls, motorcycle accidents, bicycle accidents and long-term disability claims. We will never back down in our fight against big insurers, government agencies, municipalities, private corporations, and other institutions in the pursuit of justice.
You are not alone. Our team of personal injury lawyers are dedicated to each and every client and spend the time discussing your case and reviewing your rights and options with you and your family. We value strong legal foresight and preparation and believe that clear communication is the key to an effective legal strategy. We approach every case by first ensuring that we understand our clients' needs and goals. We take the time to explain the legal issues and to develop a legal strategy that is best suited to the circumstances of each individual client.
We work on a contingency basis. This means that you don't pay unless we win your case or settle your claim. We have a recognized track record and have the results and client testimonials to prove it.
Contact our offices for your free private and confidential consultation with one of our lawyers.
Our Resources and Dedication
Our Team of Experienced Lawyers Have the Resources and Dedication to Help You Get The Compensation That You Deserve
Over the past three decades, our personal injury law firm has worked closely with leading medical specialists in Ontario. We have built strong relationships with medical experts including surgeons, pain and trauma specialists, psychologists, counsellors, physical therapists, occupational therapists, vocational therapists, and rehabilitation specialists who are experienced caring for people seriously injured in accidents.
Our personal injury firm also works with leading accounting, business and forensic economic specialists as well as leading engineers including biomechanical experts, accident reconstructionists and data analysts to help our clients obtain the best possible representation.
Our network of social service providers and healthcare specialists will work closely with you and your family to help you receive the immediate and long-term care you need while you recover from your injuries. This can include in-home attendant care services and support with your personal care, housekeeping, home maintenance, transportation and interpretation, among other things.
Our network of rehabilitative specialists will focus on you as the patient, and use the most advanced medical and rehabilitative practices that have proven to be effective, combined with traditional techniques and procedures to provide you with supportive health services and help you recover from your injuries.
Many victims soon learn that insurers will retain their own "hired-gun" medical examiners to comment on a plaintiff's injuries. A plaintiff will often be put at a disadvantage if they are not able to prepare any responding expert medical reports. Moreover, the law may require you to present expert medical evidence at trial. Our network of specialists includes leading medical experts including orthopaedic surgeons, neurosurgeons, neurologists, physiatrists, anesthesiologists, chronic pain specialists, psychiatrists and psychologists.
Our independent experts will meet with you and review your file to help fully and properly investigate your injuries to ensure that your doctors, treatment providers and insurers fully understand the nature of your injuries including diagnoses and prognosis and fully appreciate the impact your injuries have on your life and well-being.
You Can Trust Our Expertise
Our experts are renowned leaders in their fields of medical practice and include medical professors who have years of experience working with victims of trauma and accidents. Our network of experts are impartial and have been qualified by the Ontario Courts as leading experts in their fields of practice. Our team of experts will stand in your corner in your fight against large and resourceful insurance companies.
Serious Automobile Accidents
The Highway Traffic Act imposes obligations on drivers to be mindful of their surroundings and to drive with care so as not to jeopardize the safety of other motorists, pedestrians and cyclists. Unfortunately, every year, thousands of motorists are seriously injured on the road. These accidents are often avoidable and are caused by inattentive, careless or even reckless motorists.
The law permits anyone injured as a result of a car accident to seek compensation for accident benefits as well as damages in tort for their injuries for pain and suffering and monetary losses. Many people do not know that the law, including the Insurance Act and Accident Benefits Schedule, impose significant legal barriers to compensation for victims of motor vehicle accidents. These include a statutory threshold for compensation and a statutory deductible. For the most part, insurers continue to fail to fully disclose these legal barriers and the general public is kept in the dark.
Our team of lawyers have years of experience successfully overcoming the legal barriers and have helped our clients obtain compensation for their injuries. Our lawyers have argued complex legal issues in Court. A number of our lawyers have also had experience working as counsel for large insurers. We have the knowledge, experience, resources and proven track record to help you fight for your legal rights and to ensure you receive the compensation that you deserve.
Lawyers Specialized in Catastrophic Brain and Spinal Cord Injuries
At Grillo Barristers, we have more than 30 years of experience prosecuting claims on behalf of victims of accidents who have sustained traumatic and catastrophic brain and spinal cord injuries.
Any accident can result in catastrophic injuries, within a split second. A catastrophic injury can arise in the context of a severe traumatic brain, or spinal cord injury, which can include fractures to the spine or skull which result in serious neurological problems. Catastrophic injuries can also arise out of serious psychological and emotional injuries that impact one's cognitive and functional capacities.
Under the Statutory Accident Benefits Schedule, one must first meet the legal definition of catastrophic injury in order to be able to gain access to maximum benefits.
The American Medical Association's Guides to the Evaluation of Permanent Impairment provides a framework to determine the severity of a brain and spinal cord injury and the degree of a catastrophic impairment caused by a motor vehicle accident. The Glasgow Coma Scale (GSS) is often used to assess brain function. Depending on the score, one may be deemed to have sustained an acquired brain injury. However, a combination of factors including physical, cognitive and psychological injuries are also often used to determine the degree of impairment. Determining whether injuries are deemed to be catastrophic is often complicated and is usually disputed by insurers.
Catastrophic injuries can cause significant financial hardship for plaintiffs and their families. At Grillo Barristers, we understand that the importance of securing quality of care for our catastrophically injured clients while prosecuting their claims to the full extent of the law. We have experience representing hundreds of catastrophically injured plaintiffs and have helped successfully obtain full compensation totalling millions of dollars for their damages for pain and suffering, loss of income, loss of future earning capacity, payment for future care, loss of interdependency and companionship.
Our team of medical professionals and healthcare providers will provide access to round-the-clock attendant care services. Our network of rehabilitation specialists have years of experience providing specialized care for catastrophically injured victims.
Motorcycle Accidents
Every year, we hear about serious motorcycle accidents in the news. These accidents occur due to a multitude of reasons, often related to inattentive motorists as well as dangerous road conditions.
The law permits riders and passengers who are injured on a motorcycle to seek compensation for their injuries and losses. At Grillo Barristers, some of our lawyers are avid motorcyclists who, like thousands of motorcycle riders in Ontario, appreciate the vulnerability of motorcyclists and the importance of road safety. We have more than 30 years of experience handling serious motorcycle accidents and we are dedicated to helping those who are injured on the road in motorcycle accidents.
Slip and Fall Accidents
Every year, many innocent people fall down and sustain serious injuries as a result of the negligence of others. We have represented thousands of individuals in Ontario who have sustained significant injuries as a result of slip and fall and trip and fall accidents.
In Ontario, both common law and statutes like the Occupiers' Liability Act and the Ontario Building Code impose important obligations and duties on occupiers like landlords, tenants, contractors, maintenance companies and their agents and employees to ensure they maintain a safe and clean environment for patrons to use. Despite the law, occupiers often neglect the safety and well-being of others, which is why slip/trip and fall accidents are very common. Unfortunately, these types of accidents can result in very significant injuries including fractures, tears, ligament damage, and neurological damage, which can result in life-altering functional impairments along with financial hardship to you and your family.
Our experienced legal team understands that the importance of conducting all necessary investigations in order to help prove your claim. This includes obtaining demonstrative evidence such as photographs and video footage, interviewing witnesses, obtaining relevant data, taking measurements and working with engineers and architects, to prove your claim.
Our team understands that your rights to healthcare services are paramount and we will ensure that you receive the medical and rehabilitative care that you require while we prosecute your claim for your personal injuries resulting from a slip/trip and fall accident.
Long-Term Disability Claims
Many employers offer private insurance benefits through a long-term disability ("LTD") insurance provider. Some individuals purchase their own disability insurance policies. In either case, disability law involving access to benefits under disability insurance policies can be complicated. If you have sustained injuries that prevent you from returning to work, your disability insurance provider must compensate you for the time you are off work and unable to return to work, subject to the oftentimes complex policy wording.
An employee will usually qualify as being disabled if he or she is unable to perform the duties of their usual occupation. Meeting this requirement will trigger entitlement to disability benefits. Some policies will impose more difficult or stringent tests for disability.
In many cases, disability insurers fail to honour their insurance contracts and refuse access to benefits including payments for loss of wages, which can result in detrimental financial hardship.
If an LTD denial is successfully prosecuted, an agreement can be made to either reinstate the denied benefits with a retroactive payment or make a lump sum payment for all benefits available for the duration of the policy as negotiated. At times, litigation may have to be commenced through a law suit and by claiming damages for the insurer's breach of contract and breach of their obligations to adjust your claim in good faith.
Medical evidence must be adduced to establish that injuries fall within the scope of coverage provided under an LTD policy and meet the specific definitions for disability to give access to benefits. A claimant who has a medical expert report will have a stronger claim than one who does not.
Our team of lawyers have more than 30 of years of experience prosecuting improper denials of benefits by short-term and long-term disability insurance providers. Our network of medical experts and healthcare professionals will also ensure that you receive the healthcare benefits you need to help you with your recovery while we fight for your rights.
Contact our offices for your private and confidential consultation with one of our lawyers.
Additional Articles About Personal Injuries
It is an unfortunate reality that many of our clients are victims of the negligent acts of drunk drivers. In such cases, there will often be both criminal and civil consequences against the wrongdoers.