Personal Injury Lawyers Whitby
Car Accident? Slip & Fall? Personal Injury?
Personal Injury Lawyers in Whitby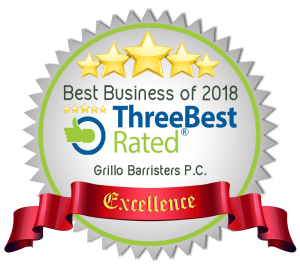 Do you Require a Personal Injury Lawyers in Whitby who is ready to provide aggressive legal representation required to win your case? Grillo Barristers has been serving the community for more than 30 years. Our lawyers are determined to help you recover compensation for pain, emotional injuries and other forms of losses you may have experienced as a result of a serious accident. We can help you obtain full and fair compensation to get your life back on track. We know that medical bills can quickly pile up after an accident, which is why we ensure our clients get the immediate care they need when they reach out to us.
Request a
FREE


Consultation
Request a
FREE


Consultation
Is it too late to file your claim?
There are strict time limits for filing personal injury claims. To ensure you get reimbursed for all expenses incurred as a result of your injuries, make sure you speak with a lawyer immediately. Over the years, we have prosecuted more than 15,000 claims on behalf of seriously injured victims. We have represented people who have suffered injuries as a result of car accidents, defective products, and slip and fall accidents among other types of calamities. We pride ourselves on our commitment to quality, professionalism and quality advocacy.
Our Practice Areas
Having handled a wide range of contentious personal injury cases, it's safe to say that working with Grillo Barristers gives you the best chance of getting a successful outcome. We know that every personal injury case is different and requires a thorough evaluation before we proceed with the litigation process. Our experience combined with skill, training and legal foresight enables us to handle different kinds of personal injury matters.
Catastrophic Injuries
Catastrophic injuries are serious injuries that can leave victims incapable of taking care of themselves. You may be forced to take time off work, seek extensive medical treatment or rehabilitation as a result of the catastrophic injury. We have worked with clients who have suffered brain and spinal cord injuries, burns, fractures and slipped disks as a result of another's negligence. We can help you ease the financial burden that occurs if you are a victim of a catastrophic injury.
Car Accident Claims
Car accidents can result in serious life-altering injuries and the full effects may not always be seen immediately after the incident occurs. We are here to represent you in all car accident cases to ensure you recover compensation for all the injuries arising as a result of the accident.
Long-term Disability Insurance
When you sign up for long-term disability insurance, you expect the insurance company to compensate you when you make a claim in future. But this is not always the case. Insurance companies will often rely on fine print and bogus reasons to deny your claim. Contact our lawyer today to help you obtain the assistance you need to fight your insurer and advance a claim against your insurer for recovery of damages and punitive damages for bad faith denials.
Wrongful Death Cases
Losing a loved one is a devastating experience to the entire family. It can drain the family emotionally and also financially. Filing your claim may never bring your loved one back but it will ensure that you get some form of justice. Our law firm has represented hundreads of families over the years recover damages for loved ones involved in fatal accidents. We will work tirelessly to orchestrate the best possible legal strategy and help the family recover compensation under the full extent of the law.
Slip and Fall Accidents
You may have had a slip and fall accident at a public premise or even in a friend's house. If you sustain serious injuries due to another's negligence, there's no shame in filing a claim. You can get compensated for your injuries whether inside or outside a courtroom. Our injury lawyers will work hard to provide a positive resolution in your favor.
Insurance Disputes
Are you looking to pursue a bad faith claim against your insurance company? We can help. We are experts in all matters of insurance disputes. We can prepare, file and dispute insurance claims to get you all the benefits that you are entitled to get by your insurance company.
Product Liability Claims
We have helped many clients obtain compensation for injuries that arise as a result of using using defective products. If you believe that you are suffering from an injury because of a manufacturer's negligent actions, we can help you purse your claim and obtain a positive outcome.
Specialized Personal Injury Lawyers and Civil Litigation Lawyers in Whitby
Reach out to us to discuss how we can help you recover damages for your pain and suffering, emotional injuries, medical expenses, lost wages, loss of competitive advantage and loss of housekeeping, among other heads of damages. We can come up with a strategy to settle or resolve your case regardless of the kind of injuries you have sustained.
Call Grillo Barristers for a FREE consultation.
Remember, you will not pay any fee until your case is won or settled.