Personal Injury Lawyers Scarborough
Car Accident?
Slip & Fall?
Personal Injury?
Request a Free Consultation
You will not pay any fees until your case is won or settled.
Grillo Law Personal Injury Lawyers in Scarborough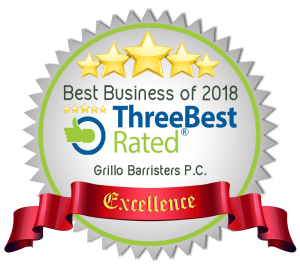 If you have been seriously injured because of another's negligence, Grillo Law has got you covered. Our Personal Injury Lawyers in Scarborough can offer comprehensive representation that is focused on achieving great results for victims and their families. Whether you have been involved in a motor vehicle accident and sustained serious injuries or you are experiencing pain and suffering due to a slip and fall incident, our lawyers can handle any kind of case you bring forth.
Google Reviews
Jeffrey Alvarado
14:37 15 Dec 18
My experience with Grillo Law was very positive. My caseworker was pleasant and attentive and kept me informed as to what was happening with my claim. My claim was processed quickly once everything was resolved and my lawyer was Sal Grillo, he was very sincere and kind to me. He explained the processes to me and I was confident he was looking out for my best interests. When I came to the office to pick up my settlement, the accountant explained the settlement & costs to me and answered my questions & concerns. I would highly recommend Grillo barristers.
Jonathan McCarthy
10:33 23 Dec 18
This firm was very good at keeping me in the loop and up to date on how things were progressing. I dealt mostly with S. Grillo. He was a model lawyer who was always quick to reply and keep me happy. The process was painless and efficient. Recommend to any and all who need representation.
Gary M
00:20 15 Dec 18
This was a lengthy experience but throughout that time I was always kept up-to-date on actions by my lawyer and he responded extremely quickly when I had a question or needed information. This law firm is highly professional and ethical in their dealings and I was able to trust them for guidance and direction throughout the process. The final result was very satisfying and dealt with quickly and efficiently. I highly recommend this firm and would use their services again if the need arises.
Joe Pullen
09:54 15 Dec 18
I would recommend Grillo to anyone who has experienced a personal injury or been involved in a vehicle accident. This is a great firm and they know their stuff. Most important, they work hard on behalf of their clients. Kudos to the Grillo team!
Matthew Freeman
15:28 14 Dec 18
I was very pleased with the results obtained for me by the Grillo Barristers team after my car accident. The lawyer and her assistant that I worked with - Patricia and Ashley - were outstanding. I received a very fair settlement and this was a direct result of their expertise, professionalism, and hard work. Thank you, ladies!
Jeffrey Alvarado
14:37 15 Dec 18
My experience with Grillo Barristers was very positive. My caseworker was pleasant and attentive and kept me informed as to what was happening with my claim. My claim was processed quickly once everything was resolved and my lawyer was Sal Grillo, he was very sincere and kind to me. He explained the processes to me and I was confident he was looking out for my best interests. When I came to the office to pick up my settlement, the accountant explained the settlement & costs to me and answered my questions & concerns. I would highly recommend Grillo barristers.
Rick Crumrine
07:15 19 Jun 18
I was injured in a motor vehicle accident in 2016 and contacted Mr. Grillo based on his online reviews. When I first met Sal he told me to just focus on my health and leave the rest to him. I never once felt rushed or pressured into anything. After two years of physiotherapy, massage therapy, and chrio, Sal reached a settlement that was well above what I was expecting. Communication with him and his assistant was very easy and they were very personable and kind throughout the process. I would definitely recommend!
Jennet Madison
06:06 16 Jun 18
I'm so fortunate to have had Sal Grillo represent me over the last 8 years. I was an adolescent when I met him and from day 1 he has done an awesome job of representing me. He did what was in MY best interest- as I was young and it was difficult to predict what the future would hold in regards to my injuries. He did a great job of explaining how everything would happen and listened to every one of my needs. He always made time to meet with me, explain the next step to the process and answer any questions. He did not settle for "mediocre" or "good"- he fought to the bitter end to maximize my settlement! He's a powerhouse there's no doubt about it! I cannot thank him enough!
Princess Lubowitz
17:44 21 Jan 21
Was seeking an LTD lawyer close by in Scarborough, and after looking through Grillo Law 5-star reviews, I decided to contact them. I stopped hesitating after my first consultation with Joshua, where he already had some insights to how we can proceed. Recently got my insurance and can't be happier with his work!
A. D.
08:44 23 Jan 21
Grillo lawyers are exactly the people you need! They navigated me in obtaining compensation due to my injury in a car accident.
Harry Cole
06:57 25 Jan 21
I'm pleased with the professional level of Grillo Law!!! I had an accident at work and broke my arm. Later on, I was fired, cuz couldn't work 🙁 My sister "forced" me to see a lawyer and I decided to go for a free consultation at Grillo. From the beginning, they were transparent with me and had a straight plan of action, which fully worked out later! Don't hesitate, just go for it!!!
Aidan McKenzie
07:55 27 Jan 21
Won my case (motorcycle accident)! RECOMMEND
See All Reviews
Request a
FREE


Consultation
Request a
FREE


Consultation
Scarborough Personal Injury Law Firm
Our personal injury law firm has grown on referrals proven track record obtaining exceptional results. We take time to customize each case to address the needs of each client. Our cases are handled with attention to detail in order to deliver a successful outcome client after client. We are delighted to serve Scarborough residents who have suffered as a result of another's negligence. We have served the community for more than 30 years and prosecuted more than 15,000 claims over the years.
Our Practice Areas
Grillo Law is always committed to working with every client. We understand that accidents can have devastating effects on the life of victims and their families so we're always here to provide a compassionate and personal litigation service. We will go through the specifics of your case and offer the best legal advice and representation. We aim to develop strategies that work best for each situation. We work on a contingency basis so we don't get paid unless we succeed in recovering financial compensation for you. Our practice areas include:
Catastrophic Injuries
If you or a loved one has sustained injuries that led to a permanent and catastrophic injuries, we can help you file a successful catastrophic injury claim. As personal injury claim experts, we have successfully prosecuted hundreads of catastrophic claims and will be ready to vigorously fight for your legal rights.
Automobile Accident Cases
Looking for a lawyer to help you recover what you've lost after a car accident? Our experts can get you the best accident settlement possible if you have suffered injury or inconvenience as a result of someone's negligence. Car accident cases can be difficult because no two circumstances are alike. You need an experienced auto accident lawyer to review the events before, during and after the accident and determine the at-fault party.
Long-term Disability Insurance
It's not uncommon for an insurance company to wrongfully deny a disability claim. If this happens to you or a loved one, we are happy to help you get a fair and complete settlement from your insurer. Long-term disability insurance is offered to cater for financial losses in the event that an accident occurs that results in a disability. But insurance companies are in business so they always want to minimize the benefits as much as possible. We're here to fight for your right to have your benefits reinstated or obtain a fair lump-sum settlement.
Wrongful Death Cases
In almost all cases, you only have two years from the date of the motor vehicle accident to commence a lawsuit against the at-fault party. Your failure to commence a lawsuit in the prescribed limitation period may result in your inability to forever make a claim. Moreover, your failure to have legal counsel and representation at the early stages may cause your claim to be neglected by your insurers and negatively impact the outcome of your claim.
Slip and Fall Accidents
Slip and fall injuries can occur anywhere including a private residence, on a city sidewalk, at work or in a retail store. If you feel that the slip and fall accident was due to someone's negligent actions, talk to our injury lawyers today to assess the situation and provide sound legal advice.
Insurance Disputes
Insurance companies can deny claims for unfair reasons. If you've been denied a claim by your insurance provider and you want to appeal, we can help. Grillo is an expert law firm when it comes to insurance disputes. We can work with you to prepare all the documentation required to prove that you are entitled to benefits after facing an injury.
Product Liability Claims
Manufacturers have a responsibility to ensure that all their products are safe to use for consumers. If there are risks, they should have adequate warnings and safeguards, to avoid accidents and injury. If you have an injury as a result of a defective product, we can help.
Work with Experienced Personal Injury Lawyers
Our injury lawyers are always happy to serve you regardless of the legal issues you may be experiencing. Talk to us today for a free consultation to discover your legal options.
The lawyers and team at Grillo Law is proud of its history of representing clients in Scarborough, Ontario for over the past 30 years. Here are a few reasons why so many relieved clients in your community have and continue to choose us to represent them in their personal injury claims:
Our Experience
At Grillo Law, we have over 30 years of experience in the personal injury field and have successfully prosecuted over 15000 claims before the courts in Ontario. Our track record of success is evident and we have successfully represented our plaintiffs in every stage of litigation, helping reach settlements for our clients of hundreds of millions of dollars over the years. We are proud of the work we have done and the success we have achieved in fighting for the rights of those who have been injured by third party negligence.
Our Resources and Dedication
One of the key advantages of seeking a respected and successful firm such as Grillo law is found in our extensive network and resources available at your disposal. Over 30 years, our personal injury firm has worked with a number of leading medical experts such as surgeons, pain and trauma specialists, psychologists, physical therapists, rehabilitation specialists, and countless others. Where the success of your case hinges on getting the right and proper medical prognosis, rest assured that the team at Grillo Law has your back.
Furthermore, the financial and time resources of a large firm will ensure that a prepared team is ready to do whatever is necessary to help achieve a fairer and better settlement for our clients.
You are also unlikely to find a team of more dedicated, focused, and talented staff. Our standout advantage and the reason why we are the first choice for clients in Scarborough, Ontario is because of the unparalleled expertise of our legal professionals. We have some of the most dedicated and hardworking legal minds in the area who are passionate about strategizing innovative legal arguments, addressing each individual client's unique case needs and resolving your claim in your favor.
If you or a loved one have been recently injured in Scarborough, Ontario, and you are unsure of your legal rights or just looking for an informed opinion, do not hesitate to contact Grillo Law for a free consultation:
+1(855)CALL-SAL (+1 855-225-5725)
We are the premier personal injury firm in Scarborough, Ontario, and we are ready to help!

The Ontario government has implemented new regulations for towing in the province, which includes a joint team to address violence and fraud.
Call Grillo Law for a FREE consultation.
Remember, you will not pay any fee until your case is won or settled.