Personal Injury Lawyers Barrie
Car Accident?
Slip & Fall?
Personal Injury?
Request a Free Consultation
You will not pay any fees until your case is won or settled.
Grillo Law Personal Injury Lawyers in Barrie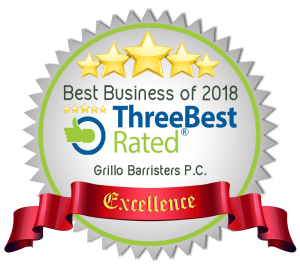 An accident can occur to anyone on any day without any notice. Thousands and individuals are involved in serious personal injuries ever year, due to another's negligent conduct. From accidents caused by reckless drivers to defective products created by distant manufacturers and uncaring property owners, there are many instances whereby the negligent actions of another can change your life forever. Personal Injury Lawyers in Barrie utilize a comprehensive representation and professional approach in personal injury cases. We have provided excellent results to victims and their families with a goal to helping them rebuild their lives.
Google Reviews
Hazel Bridgman
23:14 04 Mar 19
Mr Sal Grillo of Salvatore Grillo was an absolute sweetheart. He took a big chance taking my case on as the outcome was very unpredictable. He worked very hard on my behalf. He was very approachable and always returned my emails and even gave me his personal cell number. In the end we were 100% successful. I would not hesitate recommending Grillo Law.
Joseph George
02:32 17 Feb 19
I was in a car accident January 2017. The other driver was a runaway, hit and run. He had no insurance and suspended drivers license. It was a mess. So I turned it over to a lawyer. Only reason being, I found the paperwork overwhelming to track. I didn't like the way my own insurance company was acting. They kept asking for the same information over and over. There were way too many people at the insurance company involved and it was confusing. Let someone take care of it. It was not my fault the accident happened. It was not my fault the other driver did not have insurance and it certainly wasn't my fault that he was not charged. Evidently they couldn't find him although I did have a picture of his licence number. At some point I realised that I cannot handle all of this myself and I went ahead and called several law firms, after all I ended up with Grillo Law and it was a good choice for me. I was kept up to date. They don't make a move without informing you. I dealt with both Sal Grillo and his assistant. Sal kept me informed, both professional and with patience. I would like to than him and his team for taking care of me.
Ralph Stigall
01:39 17 Feb 19
My spouse was in a car accident and we turned to Grillo Law for help based on referral from a friend. It was a great decision. We were really happy with the settlement but also how they treated our family during hard time. Highly recommend.
Ralph Taylor
06:47 19 Feb 19
I'm so glad I had Salvatore Grillo as my lawyer. I had never been in a car accident and he was great to work with. Best in his profession and I'd recommend him to anyone in Barrie and surrounding areas.
FIONA WHELAN
03:16 04 Mar 19
This reviews is for Mr. Salvatore Grillo,Thank you for your professionalism and care for my son Steve McKane in these troubled times. Steve had a great respect for you and the firm.
Delia Curley
03:22 06 Mar 19
Thanks Sal for all the great work and for all the help with this case you're very compassionate with your work as well as to your clients thank you very much we would recommend you to anyone , thanks again!!
James Hayes
16:00 19 Jun 19
Very good service and explained everything very well. I recommend Grillo Law to anyone who needs a lawyer for a personal injury case.
John Garland
06:45 20 Jun 19
I had a complicated case, but Salvatore and his staff were very responsible and patient answering all my questions. Overall, I'm very happy with their services and price!
Kameron Le
09:03 24 Jun 19
Sal Grillo was very compassionate and yet professional with me and after a very short period of time he called me and explained that he had received an offer from the insurance company we sued. I trusted him when he explained that this was an excellent offer and so we settled. I would totally recommend him to anyone seeking compensation for pain and suffering from any injury. Thank you!
Kameron Le
09:03 24 Jun 19
Sal Grillo was very compassionate and yet professional with me and after a very short period of time he called me and explained that he had received an offer from the insurance company we sued. I trusted him when he explained that this was an excellent offer and so we settled. I would totally recommend him to anyone seeking compensation for pain and suffering from any injury. Thank you!
Ricardo Santos
03:23 01 Jul 19
Mr. Grillo was very helpful. I emailed him with a question and he called me back right away answering all my questions and providing me with the information I needed at no cost. I now know exactly what steps to take next. Very satisfied with his service.
Ramkutty R
23:56 16 Jul 19
I was in a rear end auto accident. The accident report was incorrect listing the wrong insurance information. Sal Grillo found the correct auto information very quickly and got my case resolved in a very timely manner.
Matthew Hughes
08:14 22 Jul 19
Slip and Fall case. Mr Grillo is a reliable and patient lawyer. My case was not big, but he did his best to finally get me something. I appreciate his work.
Lorenz Emberger
08:07 31 Jul 19
Had a great experience with this law firm. I would definitely recommend to family and friends.
See All Reviews
Request a
FREE


Consultation
Barrie Personal Injury Law Firm
Grillo Law P.C. has been a proud advocate for injured victims in Barrie for over 30 years. We have represented many residents of the city of Barrie and recovered significant compensation for their injuries.
Barrie Lawyers – Free Consultation
The road to recovery after an accident is often devastating not just to the victims but also to their families. No accident victim should be sentenced to a life of pain, suffering or financial losses as a result of a personal injury that occurred due to another's negligent actions. At Grillo Law, we've been serving injured victims in Barrie for over 30 years. We take pride in offering exceptional legal advice and care to every single client we serve. We have pursued claims for numerous clients in Barrie and possess extensive experience dealing with insurance adjusters in the region and beyond. Our goal is to ensure that the client we represent gets the compensation they deserve.
It's never too late to file a claim
Personal injury claims should be filed within the required time limits. To ensure you do not miss out on the deadline, speak to a personal injury lawyer in Barrie as soon as the accident occurs. This will ensure you get compensated for any expenses that you've incurred. Don't make the mistake of negotiating with insurance adjusters without having a lawyer by your side. Our law firm has successfully prosecuted more than 15,000 claims on behalf of our clients and would be happy to assist. We've represented individuals who've been injured in car accidents, slip and fall incidents as well as other types of calamities like product liability cases and long term disability denials.
Catastrophic Injuries
A catastrophic injury is a severe injury that leaves the victim with a life-changing impact. These injuries often occur suddenly and without warning leaving victims incapable of taking care of themselves. Examples of catastrophic injuries include traumatic brain injury, loss of limb, paraplegia, and spinal cord injuries. Proving a claim meets the catastrophic criteria catastrophic is not always straightforward or easy or Victims of catastrophic injuries are often forced to take time off work and seek costly medical treatment or rehabilitation. At Grillo, we work with victims and their families to help ease the financial burden they face after a catastrophic injury.
Long-term Disability Insurance
After paying your disability insurance premiums faithfully, you expect the insurance provider to give you benefits when you file a claim in the future. Unfortunately, many long-term disability claims are denied due to several reasons such as failing to include adequate information when filing the claim or provide sufficient medical evidence. Many people across Barrie who have been denied their claim have come to us for legal assistance. The team at Grillo is always willing to offer a helping hand by bridging the gap between victims and other third parties like their medical providers. We will work with you to collect adequate medical evidence that proves your long-term disability claim.
Car Accidents
If you or anyone you know has been involved in a serious motor vehicle collision, you have probably witnessed the devastating effects of a car accident firsthand. Serious car accidents have plagued the lives of many victims for decades and often inflict lifelong suffering on those involved. Many people experience severe and permanent injuries from which they never fully recover. Fortunately, the Canadian legal system provides an avenue for accident victims to receive compensation for injuries which resulted from the negligence of other drivers. If you have been injured in a motor vehicle accident in the city of Barrie, it is imperative that you pursue a personal injury claim with Grillo Law P.C. Our experienced lawyers have a rich history of representing the interests of thousands of motor vehicle accident victims.
Other Practice Areas
In addition to motor vehicle accidents, our team of lawyers offer expertise in various other types of personal injury matters. Our practice areas include slip and fall injuries, product liability, catastrophic injuries, long-term disability, and wrongful death cases, among others.
The team at Grillo Law has handled a wide range of personal injury cases and this gives our clients assurance that they'll get the best legal representation to increase their chances of a successful outcome. We understand that every personal injury claim is unique and perform thorough evaluations before going ahead with the litigation process. We bring commitment, expertise and a high level of professionalism in everything we do.
If you have experienced any type of personal injury in the Barrie area, make sure to contact Grillo Law P.C., so that we can ensure you get the high quality representation that you deserve.
Dedicated to serving our Barrie clients
For the past 30 years, we have been working with experts in various fields such as medical practitioners who help in speeding up the filing process to give our clients the best outcome. We work hand in hand with psychologists, surgeons, orthopaedists and other medical experts to get the documentation needed during trial. Rest assured that our legal team will fight to deliver the best results.
The reason why we are the first choice for our Barrie clients is because our lawyers offer unparalleled expertise. We've handled complex personal injury cases working tirelessly to deliver a strong defense. Our hardworking and talented legal minds are well known in Ontario for strategizing solid arguments and addressing each client's case uniquely in order to ensure the claim is resolved in your favour.
If you or a loved one has been involved in a personal injury accident in Barrie and you are unsure of the next steps. Our lawyers can advise. Get in touch with us to understand your options and get the legal representation you require.
Professional Barrie personal injury lawyers
Do you need help to recover damages for pain, suffering, medical costs, lost wages or any other form of damage? Grillo Law has a team of experienced civil litigation lawyers in Barrie who are ready to develop a strong legal strategy that offers you the protection you need. We promise to go the extra mile and collect all the necessary evidence that will resolve or settle your case regardless of the severity of the injuries you've sustained. At Grillo Law, we are proud of the cases we've handles and the clients in Barrie we've worked with for the past 30 years.
Highly experienced litigators
The team at Grillo comes with 30 years of experience in personal injury cases. Having completed more than 15,000 claims successfully throughout Ontario, we promise to deliver exceptional services to all our clients. We have a proven track record of success having assisted clients in every step of the litigation process. From collecting medical records and police reports to filing claims and defending our clients in court, we are proud of the work we've accomplished over the years. We continue to fight for the rights of our clients who suffer silently after another's negligence or recklessness.
Wrongful Death Cases
Losing a loved one can turn your life upside down. If the death is as a result of someone else's negligence, filing a claim successfully can help you to ease the financial burden that the deceased has left behind. We understand that losing a family member can be devastating and treat wrongful death cases with the attention they deserve. We have represented numerous families in Barrie who've come to us to recover damages from responsible parties after their loved one succumbed to injuries. We promise to work tirelessly to put a strong case that helps your family recover a fair compensation under the law.
Slip and fall cases
While many people have been victims of slip and fall accidents, proving negligence can be a challenge if you don't seek a qualified personal injury lawyer. At Grillo, we have worked on all kinds of slip and fall accidents in Barrie. Call our slip and fall accident lawyer if you or a loved one has been injured due to someone's negligent actions.
Insurance Disputes
Insurance companies can deny claims for unfair reasons. If you've been denied a claim by your insurance provider and you want to appeal, we can help. Grillo is an expert law firm when it comes to insurance disputes. We can work with you to prepare all the documentation required to prove that you are entitled to benefits after facing an injury.
Product liability disputes
Manufacturers or sellers of a product can be held liable for placing a defective product in the market. They have a responsibility to ensure that only safe products land on the hands of consumers. If you or a loved one has been injured by a defective product in Barrie, we can help you file a personal injury claim and get compensated for your injuries. We can help you understand your rights and the legal options available to file your claim. Our lawyers have worked with many victims and their families helping them to secure compensation for injuries arising as a result of using malfunctioned products. Get in touch with our qualified lawyers to get the best chance of a successful outcome.
Marijuana and driving
Driving when high can impair the driver's judgment and hinder performance behind the wheel. This puts other road users at risk. Research has shown that drivers who consume marijuana have a reduced level of concentration and coordination on the road. They are also less likely to judge distance and reaction time compared to sober drivers. All these factors compromise the safety of road users. It becomes worse when driving in poor weather conditions or at night-time where drivers are required to react fast in order to avoid accidents. Driving while under the influence of marijuana can result in serious criminal charges. If you or a loved one has been involved in an accident caused by an intoxicated motorist, call our experienced personal injury lawyers for help. We've handled similar claims in Barrie and beyond so be rest assured that your rights will be protected throughout the process.
Call Grillo Law for a FREE consultation.
Remember, you will not pay any fee until your case is won or settled.