Personal Injury Lawyers Mississauga
Car Accident? Slip & Fall? Personal Injury?
Grillo Barristers Personal Injury Lawyers in Mississauga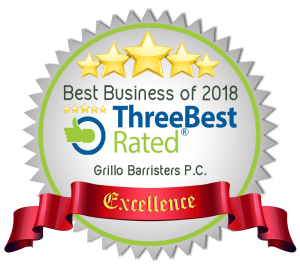 Personal injury lawsuits can be very complex. No two situations are alike and hence skilled legal representation is required to increase your chances of success. Personal Injury Lawyers in Mississauga have successfully represented thousands of clients in all kinds of cases involving wrongful death, catastrophic injuries, slip and fall cases, and denied disability claims among others. Whether you want to pursue compensation for yourself or a loved one who was injured as a result of someone's negligence, we are here to help.
Request a
FREE


Consultation
Request a
FREE


Consultation
Grillo Barristers offers free initial consultation and we work on a contingency fee basis. You won't pay any fee unless we recover compensation for you. Our firm will work around the clock to ensure our clients obtain the maximum recovery they deserve. We take time to prepare your case, review your claim with you on an ongoing basis and advance the best possible claim for you. We truly understand the key to successful outcome is to foster a strong lawyer-client relationship at the very outset.
Our Practice Areas:
We have successfully obtained the settlement for cases involving brain injuries, catastrophic claims and serious motor vehicle cases. Every case is different and will require a legal strategy that is unique to your case.
Call Grillo Barristers for a FREE consultation.
Remember, you will not pay any fee until your case is won or settled.